JOURNEY The Collection Columbia 5178572 (2005)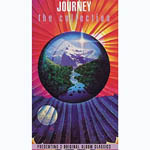 So, I've been playing catch up with compilations and box sets, which meant it was time to come to terms with this gloriously futile 3 CD longbox set.
What you're getting for your money is the original albums "Infinity", "Escape" and "Frontiers" from 1978, 1981 and 1983 respectively. There's nothing new, just the albums removed from their jewel cases and bunged into a very pretty longbox format, with the original CD booklets bunged in for good measure.
I suppose if you've never owned the albums on CD, it's cheaper than buying them individually, but there's nothing here to entice the Journey fan who already has them. Of course, the music is absolutely sublime as they shake off the tail ends of their jazz fusion beginnings on "Infinity", move into AOR overdrive on "Escape", which is widely regarded as a classic of the genre, before repeating the formula to slightly diminished effect on "Frontiers".
"Infinity" has always been my favourite Journey album, so I'm not going to quibble at hearing the divine "Winds Of March" again, which contains quite possible Neal Schons best solo, or the classics "Lights", "Patiently" and "Wheel In The Sky". They still had a hard edge on this release helped along by Aynsley Dunbars powerhouse drumming before going for the mainstram jugular on "Escape".
"Don't Stop Believin'", "Stone In Love" and "Who's Crying Now" – was their ever a better start to an AOR album? Probably not, but I still think Side 2 (in old money) let the side down, with the singles glossing over some filler material. I'd pretty much given up by "Frontiers" and never bothered replacing the vinyl, so was pleasantly surprised at how good it was. "Separate Ways (Worlds Apart)" was always a classic, still enjoyed on 12" single format round my way, but "After The Fall", "Faithfully" and the storming "Rubicon" are better than I remember them.
If you only have one Journey album it ought to be "Infinity", but as this retails for the price of a new full price CD, it's a top way to get into their music.
4 stars **** for the music, not the concept, and 0 stars for the dodgy inner packaging which nearly broke the CDs in half:-(
****
Review by Stuart A.Hamilton