JOURNEY Generations Frontiers/Sanctuary Records Group (2005)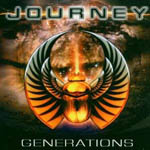 Journey are back with their second full album featuring former Tall Stories vocalist Steve Augeri, although on this album all the members of Journey get a crack at lead vocals.
Their last album 'Arrival' suffered from mixed reviews with the main complaint being too many ballads.
Well Generations' goes some way to redressing the balance as it is a far more rockier affair with Neal Schon in particularly good form. Check out the song about US troops overseas 'Out Of Harms Way' which features Schon in full rock mode!
The Ross Valory lead vocal track 'Gone Crazy' also sees Schon laying down some heavy riffs, although Valory's vocals are an acquired taste on this wacky blues rock workout.
Drummer Deen Castranova sounds at times uncannily like Steve Perry, just listen to 'Every Generation' for proof. The other track he handles lead vocals on 'It's Never Too Late' is another classic Journey mid-tempo number.
For those who like the softer side of the band there is the finely-crafted 'Butterfly (She Flies Away)' and 'Knowing That You Love Me'.
Overall for me this is a better rounded release than 'Arrival' although 'Gone Crazy' doesn't fit in with the overall shape and sound of the album.
Long time fans won't be disappointed although I still think this line-up of the band have yet to produce their classic album; but 'Generations' sees them well on the road to achieving this.
****
Review by Jason Ritchie
***** Out of this world | **** Pretty damn fine |
*** OK, approach with caution unless you are a fan |
** Instant bargain bin fodder | * Ugly. Just ugly
get ready to rock is a division of hotdigitsnewmedia group