JORN LANDE The Gathering Frontiers (2006)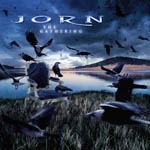 A sixteen song 'Best Of' from Jorn Lande's earlier solo albums, which includes some tracks being re-recorded and others re-mixed for a more up to date sound.
This is a good a place as any to start if you are new to Lande's solo output (or the covers album released at the same time as this album).
You get the crunching riffs on 'Bridges Will Burn' through to the more mellower 'House Of Cards'. You just can't fault the vocal performances on 'Tungar Knivur' and 'Christine', whilst 'Big' has a streak of humour running through the lyrics.
Occasionally you can guess the style/sound of a couple of songs although there is enough variety on here to keep you listening.
Perfect for new fans to start with a and existing fans will want this for the revamped songs and their sound.
****
Review by Jason Ritchie