JORN Unlocking The Past Frontiers (2007)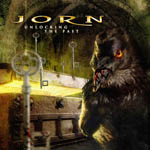 Jorn Lande releases two albums in January, a 'Best Of' with re-recorded and re-mixed tracks from his earlier work and this, a covers set of bands who've been a big influence on him musically. If you've not heard Jorn Lande (Masterplan/Ark/Millenium/Allen & Lande) then you have been missing a real treat as he has one of the best vocals in rock and an awesome range. Ten tracks on here (with some covers having been released previously on his earlier albums) and only the Kiss cover 'Naked City' fails to get the old adrenalin going, although that's personal choice as I am not a big fan of kiss!
MSG's 'On And On' is simply wonderful and has a very melodic chorus, whilst Lande slips seamlessly into Coverdale mode on 'Fool For Your Livin' (another song involving Coverdale, 'Burn' also features on here). Hey there's a thought a Coverdale/Lande partnership – nice… On Thin Lizzy's 'Cold Sweat' there is a superb guitar solo and Lande puts in a fitting vocal performance worthy of the late, great Phil Lynott. Back-up musicians are top draw including TNT's Morty Balck and Ronnie Le Tekro, plus Ralph Santolla and Deep Purple's Don Airey.
There are a lot of covers albums out there but this one is well worth getting and a good introduction for anyone not familiar with Jorn Lande's voice.
****½
Review by Jason Ritchie