JORDAN RUDESS 'Rhythm Of Time' Magna Carta (2004)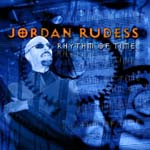 What is the logical thing to do when you are a member of one of the most important bands in today's music scene (Dream Theater), and you finally manage to have fourteen free days in between a very busy and nerve-wrecking schedule? I would never have guessed that the answer to that question would be to lock yourself in your home studio, cut any sort of communication with the outside world and begin the recordings of a new solo album. Well, this is not the most ordinary thing to do, but I hope that you agree with me that Jordan Rudess is anything but an ordinary musician.
There has always been a magical connection between Jordan and music. He was only nine years old when he joined one of the most prestigious music schools in the world, Julliard. Many years later he was awarded as best new talent by the Keyboard Magazine reader's poll. During that period, he was introduced to the sounds of classic Rock acts like Yes and Pink Floyd and that was the beginning of his long-term addiction to that specific style of music. Since then he has recorded and shared the same stage with many important musicians such as David Bowie, Steve Morse and Terry Bozzio. One of the most important steps in Jordan's career was achieved in 1999 when he joined the Dream Theater family. With him behind the keyboards, the American outfit recorded some of their most important albums like "Metropolis 2000 Scenes from a memory", "Six Degrees of Inner Turbulence" and "Train of Thoughts", and are currently preparing themselves for a US Tour alongside the Rock giants Yes.
But what should we all expect to listen to on the virtuoso's new solo effort "Rhythm of Time"? The answer is quite simple: "Rhythm of Time" is a fifty-nine minute progressive orgasm, which will bring pleasure, not only to the fans of Dream Theater, but to every fan of progressive music. Jordan had quite a limited amount of time to spend for the recordings of his solo album, and it was a blessing that he once again worked alongside his good friend Rod Morgenstein (drums). The next step was to choose the team of musicians that would bring this project of his to life. That was proven to be quite an easy task to achieve. Jordan gave a couple of phone calls to musicians that he had worked with in the past, and in zero time he had put together a dream team consisting of guitarists Joe Satriani, Steve Morse, Greg Howe and Vinnie Moore, vocalist Kip Winger (founding member of the well-known Hard Rock act Winger) and a young and very talented guitarist called Daniel J. The drum parts were handled by Rod Morgenstein, and the bass guitar by Dave La Rue. I believe it's pointless to describe what's going on, on this album. There are six instrumental compositions in which all the above-mentioned virtuosos mixed their Jazz, Progressive and Hard Rock influences, and the result was pure magic. Just listen to the complex notes of "Time Crunch", and the crazy rhythms of "Insectsamongus", and you will definitely realise that this CD is pure gold.
The only thing I was worried about was how would Kip Winger would fit in all this progressive madness. Kip recorded his vocals for two songs of the album, "Beyond Tomorrow", and "Tear Before the Rain" and I have to admit that his vocal performance on both songs is simply amazing( the lyrics for both the songs were written by Jordan).
I really don't know what else to say about this album. I have listened to the "Rhythm of Time" many times since I first held it in my hands, and the more I listen to it, the better it becomes. It seems like some musicians work better under pressure. I had the opportunity to congratulate Jordan in person for this brilliant album, which of course I totally recommend to all of you. Jordan Rudess is not just a member of Dream Theater – he is a gifted musician that will always try to express himself in many ways. I just hope that we'll all be lucky enough to experience more of these releases in the near future.
*****
Review by John Stefanis
Related>>Interview