Rare footage from 1979...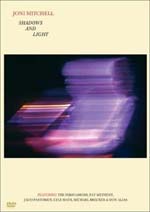 Just to put this review into context, Iím not a big fan of Joniís more jazz-based material, preferring instead her period from Blue though to The Hissing Of Summer Lawns.
This DVD was recorded at Santa Barbara County Bowl in September 1979 and sees Joni supported by a core band of Pat Metheny (guitar), Jaco Pastorius (bass), Don Alias (drums) and Lyle Mays (keyboards). Michael Brecker adds sax on a handful of numbers and the Persuasions provide vocal harmonies on several tracks.
The concert gave rise to the 1980 double live album of the same name (US #38, UK #63) and this 70 minutes Ďspecialí was aired on US cable TV - presumably as part of a campaign to boost sales. In the main, the footage is straight stage shots, but a befits a Ďmade for TVí special, its enhanced by movie footage and some Joni home video material.
First thing you notice is that the sound and vision is top notch (not surprising given its TV origins). In France They Kiss On Main Street opens with James Dean footage before cutting to the stage where Pat Matheny and Jaco Pastorius are cooking up a storm. Edith And The King Pin slows the pace - Joniís vocal delivery perfect and the backing subtle, smooth and groovy.
Coyote changes the pace again with some excellent bongo work from Don Alias and for me it goes a little down hill after that with Michael Brecker joining the fold for more jazz numbers. Wonderfully executed, but just not my cup of Earl Grey.
Then, surprise, surprise we get that rare beast - the bass solo. And pretty damn fine it is to - plenty of knob twiddling, echo, distortion and fret slapping. Excellent. Then itís more jazz (Dry Cleaner From Des Moines) before an exquisite solo delivery of Hejira. Furry Sings The Blues rocks out (Joni style), the Persuasions join for wonderful vocal deliveries on Why Do Fools Fall In Love, and finally Shadows & Light.
So, fantastic voice, fantastic band, fantastic performance. Top notch. For me, Iíd have preferred a little less jazz and more singer/songwriter orientated material. But when the qualityís this good, who can argue?
Finally, extras. Just a tour diary photo collection (some pretty classy photos) which you can click through or watch as an accompanied slide show.
****
Review by Pete Whalley