JON ANDERSON 'State Of Independence'
Classic Pictures (2005)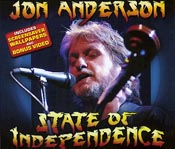 Single release to co-incide with the release of Jon Anderon's new DVD, 'Tour Of The Universe'. This re-recorded version of the original Jon & Vangelis number (also covered by Donna Summer), with more world music backing and less keyboards than the original.
There are also added children's backing vocals which work rather than have you heading for the 'skip' button. Beware of the reggae version of 'You Lift Me Up', I don't like reggae at all I am afraid and this is only made listenable by Anderson's vocals.
The final track on here is Anderson's homage to the Goons. He covers their hit 'Ying Tong Song' and it sounds very good.
There is also a video of 'State Of Independence' plus screensavers and wallpapers for your PC. All in all a worthwhile CD single and one that should win Jon Anderson wider recognition outside of the Yes circle of fans.
***½
Review by Jason Ritchie
***** Out of this world | **** Pretty damn fine |
*** OK, approach with caution unless you are a fan |
** Instant bargain bin fodder | * Ugly. Just ugly