JOHNNY HAWTHORN BAND Johnny Hawthorn Band
Raf 1985 (2006)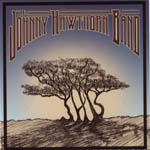 The Johnny Hawthorn Band hail from the West Coast, and are basically a power trio of virtuoso players with notable guests including former Zappa sideman Arthur Barrow who appears here on Hammond B3.
Johnny has spent the last decade hiring out his considerable guitar talents to a number of projects including Toad The Wet Sprocket. And it is while with the latter that Johnny presumably hooked up with producer/label boss Todd Nicholls.
The result is everything you would expect from a consumate player surrounded by a killer rhythm section of Steve Heidtmann on funky bass and the peerless drumming and percussion of Mike Sauer.
The album kicks off with the Johnny Guitar Watson sounding funky work out 'Walden's Pond', and continues with a nice subtle reading of Earl King's 'Come On'.
And just when you think this album is a triumph of playing over material, up pops the beautiful ballad 'Mercy' and the countryish 'Mercy Jam'.
The latter is a cross between The Allman Brothers and Robert Randolph but with much needed restraint and some lovely production values.
There's a real inner groove to the album, notably on the languid 'Still In Love'. Johnny leads from the front with some searing lap steel guitar runs and even conjures fresh life into a cover of Robert Johnson's 'Crossroads', making it more than a tiresome guitar frenzy.
For those unfamiliar with Johnny's work, this album offers a clue to a fine player, and a kicking band who can shift up, down and sideways at a moment's notice. With a subtle mix of Rock, Blues and funk Johnny is closer to the feel school of players, but can certainly rock with the best of them. A fine effort.
***
Review by Pete Feenstra
Walden's Pond
© 2005 Raf Records. All rights reserved.