JOHN WETTON Live In The Underworld DVD
(Classic Rock Productions CRP 1156)
Cherished prog journeyman in live set...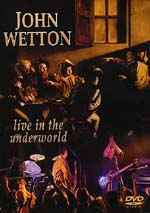 John Wetton is one of our most esteemed prog rock songwriters and performers, a veteran of countless gigs and sessions with Asia, Family, Roxy Music to name a few. Wetton's anthems are perhaps best suited to the larger hall, but in this intimate environment they come across well enough.
Wetton is ably asisted by Arena's John Mitchell on guitar and Martin Orford on keys and the material takes in many of the highlights of the bassman's illustrious career. Trainspotters will lap up the full length version of King Crimson's Starless, but it's on the slower material that Wetton excels. 'Nothing's Gonna Stand', 'The Smile Has Left Your Eyes' and 'After All' tug the heart strings whilst 'Battle Lines' was snaffled for a movie theme and also appears here in bonus video form.
It's encouraging to note that Wetton has performed with old partner Geoff Downes on his latest solo album but an Asia reunion is unlikely. Sadly Wetton has had his fair share of gig troubles in recent years with some dates cancelled due to voice problems. This DVD serves as a reminder that he is a master craftsman and a performer who should be cherished.
****

Review by David Randall
© 2003 All rights reserved.
***** Out of this world | **** Pretty damn fine |
*** OK, approach with caution unless you are a fan |
** Instant bargain bin fodder | * Ugly. Just ugly