JOHN WAITE Downtown: Journey Of A Heart
Frontiers FRCD293 (2006)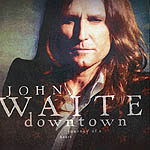 This new studio album sees Waite re-record many of his greatest hits, giving them all a modern, hard feel. Opener 'Hard Way' is a rocky number with a heavy John Parr feel, while 'In Dreams' is an part acoustic ballad.
The opening guitar on 'Blue Venus' is moody, atmospheric, before we get the catchy tune and a male/female duet of 'Missing You'.
There's also two new numbers here, 'St. Patrick's Day' and Dylan's 'Highway 61'.
Old songs, new direction, it will please fans for sure.
****
Review by Joe Geesin