JOHN MAYER Continuum Sony/BMG (2006)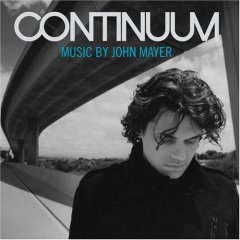 John Mayer is a great singer and is here at work with some great musicians (his trio, plus guests such as Charlie Hunter). That said, for me, it stops short of being a great album. I think perhaps it all just sounds a little too good, too polished - my taste is for a harder, earthier blues.
An example of this is the first track ('Waiting on the World to Change') opening with a rocky guitar backed by glockenspiel like vibes - for me that's just not the blues. The sound is best for me when most stripped down on such tracks as 'Stop the Train' - a wonderful song, Mayer coming close to the sweet soul-like voices of Curtis Mayfield and even Sam Cooke.
Mayer's cover of Hendrix's 'Bold as Love' is also a great track, raw, impassioned and rocky, adding to the appreciation of the song. Other songs on the album, while being accomplished enough, just don't really do it for me.
Though tracks can at times remind you of Mayfield, Peter Green and Cooke but at other times they can remind you of Jack Johnson, James Blunt and even - ughh - Curtis Stigers. Please move to a harder sound!
My recommendation is to give this album a go - it's quality certainly merits it, and though you may find the sound too light and middle of the road, you may love it. Many do!
***
Review by Steven Lenton