JOHN MARTYN Grace And Danger Universal (2007)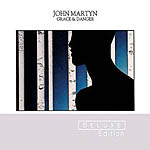 When the artist remarks "Grace and Danger was very cathartic, and really hurt, I was really in love with that woman" you just know that this is not going to be a rib-tickling listen. Famously kept on the shelves for a whole year such was Island Records' concern over its emotionally harrowing content, 'Grace And Danger' is one John Martyn's most striking releases.
Charting the demise of his marriage to Beverly Kutner, painfully self-knowing and -lacerating, and startling after the jazzy world/folk of its predecessors, this nonetheless features strong material notably its title track, 'Johnny Too Bad', and the sublime 'Sweet Little Mystery' offsetting some of the more industrial angst beaming through the period production gloss.
Taut ensemble playing from Martyn on guitars, John Biblin on bass, and Phil Collins (also undergoing a divorce) on drums packs the punch home that harder.
A well-executed 2-disc reissue of the original 1980 album with 18 previously unreleased out-takes and contemporary live performances to enjoy, this release is a far cry indeed from the relative ambience of 'One World' and 'The Duster', but John Martyn always challenges and here, his pain is our pleasure.
****
Review by Peter Muir
Johnny Too Bad
© 2007 Universal. All rights reserved.
---
| | |
| --- | --- |
| | Print this page in printer-friendly format |
| | Tell a friend about this page |