JOHN MARTYN In Session Universal 9841963 (2006)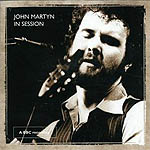 It's hard to believe that Martyn started out as a folkie. The opening track on this excellent BBC radio collection - 'Devil Get My Woman' - recorded for Bob Harris in May 1973, has all the stuff that would define his sound for the next three decades.
Lots of echoplex, syncopated rhythms, and jazz-inflected vocals, which over three decades would get ever more rambling. Listen to this track through headphones and all you'll need for company is an incense stick and a lava lamp.
You have to remember that in 1973 all this was somewhat groundbreaking, especially from a folkie. Martyn fashioned a frequently ambient vibe that was mesmerising when he played solo and even more infectious with full band.
But the full band scenario falls outside of the period dealt with in this compilation, which runs from the Harris sessions (six tracks from 1973), through 1975 (and a session for John Peel) to 1977/8 (again Peel sessions).
After the opening two heavily echoplexed tracks, Martyn reverts to acoustic for the attractive Beverley/Make No Mistake, the former with a Danny Thompson's bowed bass accompaniment, and 'Fine Lines' from then new album 'Inside Out'.
'May You Never' is another attractive acoustic piece that became a staple in Martyn's live set from 1973's 'Solid Air' album. If Joni Mitchell had balls she would sound like this.
Perhaps the surprise of the Bob Harris set in October 1973 is the traditional tune 'Eibhli Ghail Chiuin Ni Chearbhail'. Some might holler, praise to the Lord for the phase pedal, others might mutter 'just what was he on?'
For the remainder, the January 1975 Peel sessions feature exclusively tracks from then new album 'Sunday's Child'. This album gets overlooked in the Martyn Canon, probably because it was a return to more straight-forward acoustic pastures. In this context, it provides an intriguing and welcome interlude. And, of course, 'Spencer The Rover' was to get reprised in his stage act over the years.
In January 1977, Martyn didn't have a new album on the stocks which explains the choice of four tracks for another Peel session, including a reprise of 'May You Never' and another classic 'Over The Hill' from 'Solid Air'. But he previews 'Certain Surprise/Couldn't Love You More' which appeared later that year on the 'One World' album.
The final track, recorded a year later in 1978, also appeared on the 'One World' album and is presented in full eight-minute glory. It neatly book-ends this collection and demonstrates why John Martyn is such an enigma.
Always willing to explore new musical directions and sound textures: if the early drum machine sounds somewhat tacky by modern standards, Martyn's passion and emotion - and his electric guitar - shines through.
****½
Review by David Randall
Make No Mistake
© 2006 Universal. All rights reserved.
---
| | |
| --- | --- |
| | Print this page in printer-friendly format |
| | Tell a friend about this page |