JOHN MARTYN 'And Live...' (One World OW122CD)(2003)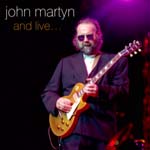 There have been a number of live albums issued on the One World imprint trawling John Martyn's post-1990 concerts. Many have been slightly better than bootlegs and with a fair amount of track duplication. The good thing about this 2-CD release is the excellent sound quality.
In many ways a trailblazer with his own niche, this folk to funk rocker has always delivered quality and emotion. This concert, recorded in none other than Carlisle in 1996, features tracks from then soon to be released 'And' together with some of his classics such as 'Solid Air' and 'John Wayne'. Thrown in for good measure are some additional tracks from 1986 including the sublime 'Angeline'.
Fans will lap this up, even if they have several versions of the same song, but new admirers would be well to convert here.

She's A Lover
© 2003 John Martyn/Voiceprint. All rights reserved.
***
Review by David Randall