Lennon exposed: man and superstar...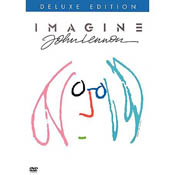 Imagine Ė John Lennon is a wonderful trip down memory lane. And while itís the John Lennon story, itís also the Beatles story, albeit told with a predominantly Lennon focus.
Taken from Lennonís own collection of more than 240 hours of film and videotape, and narrated by the man himself, the central part of the movie was filmed around the 1971 Imagine period, which is interspersed with recollections, contemporary footage and interviews with the key people in his life.
Of course weíve seen plenty of Beatles footage before, but somehow the Beatles story never tires and itís fascinating to re-live this foursome from Liverpool conquering Hamburg, their hometown, the country and then the world. And it comes across in spades just how passionate Lennon was about the music, the fans and the world.
The film exposes Lennon the man, and takes us through the wilderness years, redemption and his untimely demise. It still brings a tear to the eye. As you might expect much of the footage is grainy and taken from home movies and newsreels. But it all hangs together well.
On this deluxe edition (timed to coincide with the 25th anniversary of Lennonís death) you get a second disc which includes A Tribute To John Lennon: The Man, The Music, The Memories by the filmmakers (not that interesting), never before released footage of Lennon performing an acoustic version of Imagine on stage in new York (mildly interesting), never before seen home movie footage (again, only mildly interesting), Truth Be Told a BBC radio interview with John and Yoko (one of the better extras), an interview with the Headmaster of Johnís school (again reasonably interesting, but hardly revelationary), a James Dean movie trailer (???), and a DVD-ROM guide to Johnís music.
All in all, an excellent watch and one for a Sunday afternoon in front of the TV.
****
Review by Pete Whalley