JOHN LAWTON BAND 'Shakin The Tale At The Magician's Birthday Party'
(Classic Rock Legends CRL1552)(2004)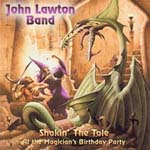 John Lawton is perhaps best known for fronting Uriah Heep in the late 70s, given the unenviable task of having to fill David Byron's boots. He's been recording in various projects since, including a reformed Lucifer's Friend, the covers band Gun Hill, and also solo.
This live set was recorded in London promoting the Sting In The Tale album. Lawton has a very powerful and distinctive voice, but perhaps not as versatile as current Heep singer Bernie Shaw, and this set covers a good chunk of his solo career. Sadly no Heep, but as it was part of a Uriah Heep event that's to be expected.
Opener 'Take You High' as a cracking opener, while 'Heart Breaker' is a solid doomy almost gothic track. An appreciative crowd too. A fine live set.


£12.99

Over The Hill
© 2004 Classic Rock Legends. All rights reserved.
****
Review by Joe Geesin


£12.99

© 2004 Sanctuary Records. All rights reserved.