JOE SATRIANI Super Colossal Epic 82876 76755 2 (2006)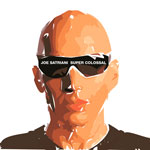 For a moment, let us doff our cap to Satch as the guy who nurtured Messrs Hammett and Vai and who, since the late eighties, has carved out his own niche as solo axeman in the super-league.
It is sometimes the way that when these guitar gods commit to album the results are inconsistent, and this has to be said of Satriani over the years.
Satch addicts will approach the latest album with a sense of anticipation and not a little salivation, and I am sure they won't be disappointed, but in truth for the average listener there appears to be nothing startingly original. That is probably more to do with the fact that the world is now filled with enough wannabe shredders of differing technical, musical and emotional ability.
And there lies the dilemma, does the guitar god play safe or do they go hell for metal and risk losing the listener with sheer technical brilliance and emotion-lite bravura?
Whereas 2004's 'Is There Love In Space' had a fairly consistent rock feel to it, here Joe has attempted to feature a variety of styles. For the most part it works due to the quality of the songwriting. And thankfully, as he says in the informative liner notes, 'it's all rock and roll'.
When Satch combines both the technical and the emotional, or at least a funky and insistent riff, the results are often spectacular ('Satch Boogie' and 'Circles' off 'Surfing With The Alien', and the title track from 'The Extremist' come to mind)
On 'Super Colossal', the classic Satriani 'signature' sound is epitomised by 'Redshift Raiders', 'Just Like Lightnin', 'One Robot's Dream', and 'Theme For A Strange World' (upbeat, straight-ahead guitar) , 'Ten Words', 'Cool New Way', 'The Meaning Of Love', 'Made of Tears' (lyrical, slow burn).
But album closer 'Crowd Chant' (which no doubt will be a staple in the new live set) adds little to the Satriani canon although quirky, yes.
All in all, if not quite living up to the promise of its title, a welcome return and definitely a grower.
****
Review by David Randall
Just Like Lightnin'
© 2006 Sony/Epic. All rights reserved.