JIM DIAMOND 'Sugarolly Days'
River Records RIVERCD078 (2005)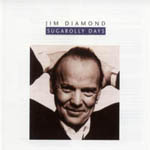 Jim Diamond is probably best known for his 1984 UK hit I Should Have Known Better. And you canít knock his credentials from playing with the likes of Alexis Korner, Earl Slick, Carmine Apice. Jeff Beck, Phil Manzanera, Gallagher and Lyle. To name but a few.
But this isnít a rock album Ė itís an album of Scottish traditional folk music dedicated to the people of Scotland - as you can probably tell from track titles such The Road To Dundee, Wild Mountain Thyme and Skye Boat Song. Seven of the twelve tracks are traditional numbers and the other five are written by Jim in much the same style.
For the most part itís mellow album with songs ranging from Rabbie Burns' tearjerker Ae Fond Kiss to a jaunty rendition of Coulter's Candy. But if you donít like Ďtraditionalí Scottish folk stay well clear.
***
Review by Pete Whalley

Sugarolly Mountains
© 2005 River Records. All rights reserved.
***** Out of this world | **** Pretty damn fine |
*** OK, approach with caution unless you are a fan |
** Instant bargain bin fodder | * Ugly. Just ugly
get ready to rock is a division of hotdigitsnewmedia group
Why should I buy this CD?

One of rocks great vocalists goes roots.
Burn baby burn

Sugarolly Mountains