JET Shine On Atlantic(2006)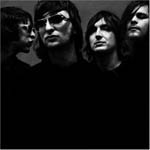 There was a time when all that Atlantic Records touched turned to gold. Led Zep, Yes, Foreigner, Stone Temple Pilots and, fast-forward, The Darkness in debut album mode.
Because of the big label backing it's easy to approach Jet's second album with a certain amount of respect, curiosity, and expectation. After all, their debut album 'Get Born' was released in 2003 to wide acclaim and success.
Jet have a Beatles fixation (White Album period), right down to capturing George's 'My Sweet Lord' slide guitar and Macca's pumping basslines. Maybe they'll become the Oasis of the millennium?
At other times, Nic Cester's vocals evoke Chris Difford of Squeeze (Bring It On Back, Kings Horses), and occasionally Ian Hunter of Mott The Hoople (Skin And Bones).
And when they rock out, Jet could be anyone from a Rolling Stones tribute to AC/DC wannabes (Stand Up).
The band may have consumed the contents of their dad's, or grandad's, record collections but this blatant recycling makes you wonder how they get away with it.
There's nothing bad about this CD, just nothing original or startling and - without Atlantic's marketing bucks - they might struggle. I suspect that this will one day jostle for attention with 'One Way Ticket To Hell And Back', in the bargain bins.
**½
Review by David Randall