JENNY LEWIS with The Watson Twins - Rabbit Fur Coat
Rough Trade Records (2006)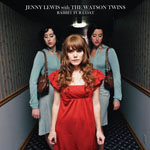 Rilos Kiley's More Adventurous was one of the contenders for album of the year in 2005. Rabbit Fur Coat sees front woman Jenny Lewis going it alone with the help of gospel sisters Chandra and Leigh Watson and a few other chums. It's a mouth watering alt country roots offering, with Mike Mogis once again behind the desk.
Like More Adventurous, Rabbit Fur Coat is an eclectic amalgam of influences, but this time focusing on Americana roots - blues, country, and gospel. It's a stunning collection and while it may not be to everybody's taste you're unlikely to hear a better collection of vocal performances in a month of Sundays.
The album opens with Run Devil Run - a gospel acappela blues, and The Big Guns which explores the alt country roots seam that Maria McKee once mined so successfully. These tracks pretty much set the tone for an album of rare beauty.
But there are one or two stand out moments - Rise Up With Fists!! is simply gorgeous gospel, pop, country blues with a hook to die for. It's one of the best tracks you're likely to hear (by anyone) this year. Another is Melt Your Heart - a chillingly beautiful up-tempo number that wouldn't be out of place on a Rilo Kiley album.
Elsewhere, Jenny and chums are in inspired form delivering an impressive set of earthy country acoustic ballads, country pop and gospel blues. She clearly doesn't believe in taking the easy route to stardom, but based on this form the lady is destined for greatness.
****
Review by Pete Whalley
***** Out of this world | **** Pretty damn fine |
*** OK, approach with caution unless you are a fan |
** Instant bargain bin fodder | * Ugly. Just ugly
get ready to rock is a division of hotdigitsnewmedia group
Why should I buy this CD?

A pearl of an album that gets under your skin with repeated listenings. And if there's a better current vocalist than Jenny Lewis, I'll eat my Y fronts.

Burn baby burn

Rise Up With Fists!!, Melt Your Heart, Born Secular