Just witnessed your best live gig?..send us a review!
JEFF SCOTT SOTO
Stripes Bar, Brentford FC Saturday 15 May 2004
The legendary Jeff Scott Soto (Talisman/SAS Band/Malmsteen etc) rounded off his latest batch of UK dates at Stripes Bar in Brentford. A respectable turn out (but not full - why doesn't a singer of this calibre have more people down at his gigs?) and a very young trio, the Bone Idols, started the evening off with a short set of covers. Ranged from the Undertones 'Teenage Kicks' to CCR's 'Proud Mary'. Not bad at all and with a few more live gigs they will become more confident.
Jeff Scott Soto arrived to a sea of applause and as one male commented the females in the audience were drawn to the front like a magnet! Full on rock assault to start with 'Livin' The Life' and 'How Long', plus a JSS Band version of Queen's 'Dragon Attack', which allowed new drummer Dave Dzialak to show his undoubted skills.
The band were in fine form and cracking jokes, usually at each other's expense. Guitarist Howie Simon sang 'Listen To The Music' (the old Doobie Brothers classic) and the crowd got their way with 'Colour My XTC' (they kept shouting for this number between songs!). JSS did a fine version of Seal's 'Crazy' and better than the original IMHO.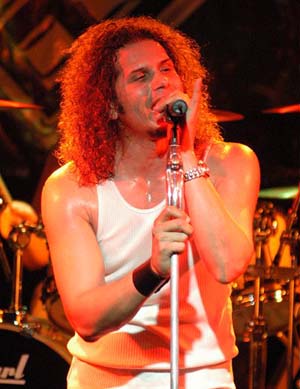 Photograph © 2004 Martin Kessel
JSS has a great voice but more than this he has the stage presence which many vocalists lack and he works the crowd with ease. Plus you've those harmonies provided by Howie Simon and bassist Gary Shutt, which add so much more in the live arena.
The acoustic portion of the set was a highlight with Madonna's 'Frozen', Prince's 'Purple Rain' and the Journey classic 'Send Her My Love' - simply awesome. Fun part cam with 'If You Need Somebody' as they did the song in Metallica style,reggae style and then Country & Western although JSS admitted he don't do Country & Western! With Howie Simon's undoubted guitar talents you can see why he is in demand and is one of the better players around today. Then for 'I Want To Take You Higher' you got snippets of 'Enter Sandman', 'Smoke On The Water' and Foreigner's 'Hot Blooded'. This band could play anything you throw at them I feel!
Encore time saw the funky medley that included 'Play That Funky Music', 'Kung Fu Fighting', 'Jungle Boogie', 'staying Alive' and 'Under Pressure' - complete with dance routines from the band. Quite simply one of the best gigs I've seen in years and many of the audience thought the same (one said it topped his Gods appearance in 2002 due to the intimate nature of the venue and the fact that the band were up for some fun). JSS is a star - just ask anyone whose seen him at the SAS Band or Queen fan club shows and why he isn't gracing Wembley Arena is beyond me. Hopefully this new project with Journey's Neal Schon will get JSS the success he deserves.
Three special thanks you's the main man JSS & the band for such a great gig; Frank Tunney, JSS's tour manager for believing in the band's talent and bringing them over to the UK and finally to my wife. We were meant to both go as a celebration of our 11th wedding anniversary but sadly our babysitter was ill. So she sent me along and I'd like to thank her for being a star!
Review: Jason Ritchie

Related>> Interview