Who is Jason Mraz?..this DVD fails to reveal all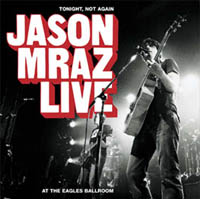 'Who the f**k is Jason Mraz?' I wondered as I inserted this DVD into the d: drive.
A funky guitar, bongos and pre-gig video footage seems to ask the same question without answering it. But from the size of the audience (and the fact they seem to know the words) its clear he has a certain stature – at least at the Eagles Ballroom where this DVD was shot.
The opening number Tonight, Not Again is a classy start - the horns giving it a distinct latin/jazz laid back edge. Steely Dan spring vaguely to mind. And Jason describes his sound as 'soft rock', so not too far off the mark there then.
The DVD is beautifully shot and the sound is first rate. But it irritatingly has the lyrics played across the screen and there's interview footage between all tracks which tends to break the continuity and would become a real pain on repeated viewings. And as far as I can tell there's no way of turning either off.
You And I Both appears to have been a hit single. It's pleasant enough, but whether it merits the screaming and fawning that greet it from the audience is open to question. And while there's a fair number of chicks in the audience, there's quite a few guys to. Which is odd, because it doesn't strike me as the sort of material that would attract a masculine audience. Maybe they're with the chicks?
The gig sees Mraz touring his debut album Waiting For The Rocket To Come which has received positive reviews and is a blend of folk, pop, hip-hop and roots-rock. And Mraz has, by all accounts supported the likes of Jewel, The Dave Mathews Band and Gary Jules. But for me it's a bit one paced and a bit too heavy on the 'soft' and not enough 'rock'.
The DVD also features interviews and backstage footage (although frankly, there's enough between the tracks).
You come away from watching this DVD with the strong impression this is a heavy marketing ploy and not a live disc for those already into his music. But at the end of the day, I've still no more idea who Jason Mraz is. A young guy, with a classy band (which appear to be seasoned pros) and clearly a certain following. And there's no doubt he's engaging. But somehow, I can't see him breaking into the big league. But with a bit more focused material, who knows?
***
Review by Pete Whalley