JAPAN The Very Best Of EMI (2006)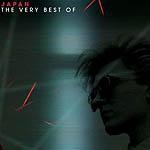 Japan were always one of the more 'arty' bands of the New Romantic era. David Sylvian had 'cool' and was a far better vocalist and far better looking than Simon Le Bon. But Japan were in it for the art - not the adulation of screaming hordes. And all four members had very strong views on direction - views that would eventually tear them apart.
This collection brings together for the first time tracks from Japan's first four albums with Hansa Records and their latter day output on Virgin. Truth be told, Japan were pretty patchy outfit - when they were great they were wonderful, but when they were bad, they worse than average. Thankfully everything included here passes the quality control test.
Much of the New Romantic era material is beginning to sound pretty dated these days. But Ghosts - which open and closes this compilation - still has the ability to raise goose bumps after all these years. It is a quite magnificent number and worth the admission price alone.
Elsewhere there's some wonderfully ethereal material - haunting in its beauty and revealing itself to have an almost timeless quality - Gentlemen Take Polaroids, Visions Of China, Taking Islands In Africa, Nightporter and Canton to name but a handful of the 15 excellent tracks included here.
Japan were never an outfit to 'rock out', - preferring instead to present an intriguing, sophisticated image. But when they did move up-tempo the results could be equally memorable. Quiet Life is about as rock as Japan got and it's another exquisite track.
****
Review by Pete Whalley