JANET HOLMES 'The Road To The West'
(Market Square MSMCD129)(2004)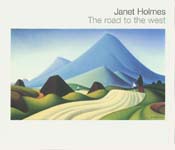 This is a very fine album. But it's only after repeated listens that the magnificence of some of the playing reveals itself.
This is a very fine cast of musicians at the top of their game and the album is jam packed with subtle nuances and virtuoso performances. But you really only start to appreciate them when familiarity with the basic song structures allow you to focus on their delivery and component parts.
First off, the sleeve credit to Janet Holmes and The Hillbilly Soul Foundation suggests that this might be a difficult one to pigeonhole. And it is, moving effortlessly from Celtic, to soul, to country and to rock.
Belfast born Janet fronted SOS a heavy-rock Gospel group throughout the '80s before recording as part of the acoustic duo Bare Bones in the early '90s. In 1997 she joined Bird-Dog, a band fusing traditional Irish music with bluegrass and Swing-era jazz and a performance on a Bert Jansch tribute album Janet led directly to her solo debut.
The core band includes pianist Brian Connor (Eleanor McEvoy/Van Morrison) and drummer Liam Bradley (Eleanor McEvoy/Ronan Keating/Van Morrison), Irish dobro ace Colin Henry and music journalist and biographer Colin Harper. Guests include fiddle virtuoso Martin Hayes; Henry McCullough (Joe Cocker, Wings), Colin Reid and Texan prog-rock maestro Barry Bynum
So what's it like? Be The One opens with folk overtones, soaring vocals and beautifully restrained dobro playing, If I Had A Boat is a folk/bluegrass fusion with mandolin and dobro trading licks. Dreams is a gentle Irish ballad with piano and acoustic sharing the limelight. Gone, another gentle ballad.
The Fields of July is wonderful - mournful dobro, supplemented by shimmering piano - Clannad never sounded this good. Letting Go does just that and sounds like the Corrs rocking out circa their first album. When You Needed is a gentle folk rock number, Love Will Keep Us Alive takes another turn - a beautiful soul ballad - the vocals are wonderful and remind of Desiree at her best. And so it goes on - the one constant, fantastic musicianship.
So if you have any tendencies towards Irish music, folk, bluegrass, or just enjoy hearing top-notch musicians having a good time, then investigate this. And finally, well done to Market Square Records for yet another quality release.
****
Review by Pete Whalley

Be The One
© 2004 Janet Holmes/Market Square. All rights reserved.