Controversial rare documentary from 1997 'Relapse' tour...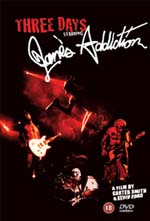 This is a strange one. Its not a live performance DVD and its not a documentary, but a film by Carter Smith about a couple of fictitious documentary makers who try to produce a warts and all film of Jane's Addiction during their short reunion tour of the USA in 1997, some 6 years after the band originally broke up. The reformation's lineup featured original drummer Stephan Perkins, guitarist Dave Navarro and crazy front man Perry Farrell, with Navarro's then current Red Hot Chili Pepper cohort Flea on Bass. Given the Chili Pepper's record on general craziness, it says something that Flea is one of the most 'normal' characters featured.
I must admit that prior experience of the band was limited to their video for 'Been Caught Stealing', which frankly hadn't really impressed me, but from the opening sequence of the band live on stage, I was hooked by the power of their music. Stephan Perkins drums and Flea's bass playing lay down a rhythm which is always musical and often strangely hypnotic, while around them a group of 'exotic dancers' perform around poles and in cages around the stage. Star of the show, whether he is wearing leather trousers or stockings, a black tutu and a feather boa is Dave Navarro, who, despite some rather odd backstage scenes is nothing less than a complete live wire on stage. Whether simply rocking or delivering an incendiary solo, he is a real star – always melodic, powerful and mesmerizing, while vocalist Perry Farrell too often comes over as being rather eccentric, with a manner and delivery which conjures images of a stoned-out hippy.
To be honest, the amateur filmmaker sub-plot is not really believable but serves to break up the flow of the live music as the band moves from one gig to the next. The film-makers manage to get themselves backstage, interview the band and go to after show parties, yet at no point are they seen wearing passes of any kind. However when compared to some of the backstage scenes of Farrell philosophizing, consulting a Rabbi and greeting fans and fellow musicians, to say nothing of the bizarre antics of Dave Navarro, it introduces a welcome glimpse of 'normal' life and throws the general craziness into simply more contrast.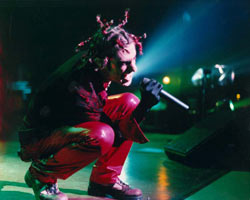 Regardless of the fake story, the music and the live performances are amazingly strong in a manner which I found to be completely entrancing. Having not expected to particular enjoy their work, I found their music to be modern, surprisingly progressive and extremely powerful. Their live performances are completely outrageous; both in terms of what the band members wear on stage as well as the freedom with which they play and improvise, while the exotic dancers writhe around them. The sexual vibe of the band is extremely strong and Farrell's philosophizing is heavily reminiscent of the hippy movement of the late 60s, yet it is clearly one that the crowd embrace, with the audience dressing up and clearly bonding with fellow fans, who have traveled from around the USA to catch this particular tour.
The success of the tour both commercially and musically clearly rejuvenated the band members and convinced them that the band should continue, which it does to the present day though not with Flea on bass. The band have clearly tried to do something out of the ordinary rather than to produce a simple another live DVD and while personally it doesn't really work, for a real fan of the band it does give a fascinating insight into the minds of the band members and is a fine document to a tour during which the band were certainly on fire musically.
***
Review by Charlie Farrell