JAMES WARREN Jim's Easy Listening Album
Angel Air Records SJPCD210 (2006)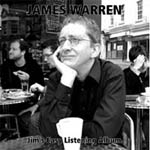 Well the bloke out of the Korgis has recorded a 16 song collection of uber-cheesy songs.
Groups like the Carpenters, Poco and Loggins & Messina just seep from this collection. From the 'The Leaving Time' through the demo of 'Everybody's Got to Learn Sometime' (which was a huge hit worldwide for Warren) there is mellow vibe flowing throughout the CD.
Warren, mainstay of such bands as the aforementioned Korgis and Stackridge certainly has a talent for this sort of thing. Mellow sax and that easy listening percussion pervade.
This is exactly what you expect to hear from those MOR stations that you hear in a doctor's office.
Despite the fact this sort of music drives me 'round the bend there is no arguing with such talent.
**
Review by Marty Dodge


£12.99
Cold Tea

© 2006 Angel Air Records. All rights reserved.