Check out the latest James Grant review here
JAMES GRANT 'Holy Love' Vertical (2004)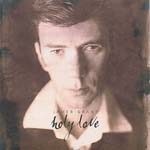 There used to be a trick in the music industry, in the days of the ubiquitious listening booth, that the first track of an album would be the strongest - the idea simply to hook in the listener. In the days of track skip and shuffle, this wheeze is less used.
Don't let the first and title track on this album put you off: it is slow, gospel-tinged, and perpetuates the fear that James Grant is going all maudlin and country. Indeed Grant-watchers will have noted this tendency: there's a sadness and melancholia that permeates his output and it contrasts distinctly with the pop funk to rock sound of his Love And Money days.
Get into Track 2 and you realise we're on the way to a classic offering from the man whose previous band is an albatross and judging from our recent 10 Questions he desparately wants to divest himself of it.
It is safe to say that those listeners who loved Love And Money and in particular the songwriting talents of their frontman will have followed Grant's subsequent solo career with bated breath, and no doubt this latest album will be eagerly anticipated. He doesn't disappoint.
Freed of big label strictures, Grant seems content to develop his ideas as he goes and 'Holy Love' allows him free rein on his first truly "acoustic" album.
The last album, 2002's 'I Shot The Albatross' (a reference to burying his past?), was inspired by poetry. 'Holy Love' is a collection of tunes which cover subject material ranging from third-world ('Give The Poppy To The People') to religion (the folksy 'Mary Magdalene'). 'I'll Comb The Tangles From Your Hair' will excite L&M fans - it has a hint of 'Avalanche' about it, without the big production.
There are some irresistible choruses on this album and the trick is that the album does repay repeated plays, always a good sign, and a feeling of new discovery on each listen. And as Grant says, 'It would be beneficial if it were listened to at least once whilst not doing anything else at all; driving, ironing, watching football, having a dinner party etc.' I am sure this will be the case.
In his own way, Grant is as enigmatic as Morrissey. He is not afraid of acerbic lyrics, wit and word-play. His vocal style, though, is alluring - a deep resonance that perfectly suits the material whilst he is a superb guitar player too. Instrumentally this album is a delight, with contributions from Donald Shaw and Karen Matheson (Capercaillie).
Once past that first track, this album becomes compulsive and infectious listening. James Grant may want his fans to leave him alone, but on the evidence of this album they're not going to, and may now be clamouring at his shirt-tails for the next instalment.
****
Review by David Randall

Give The Poppy To The People

© 2004 James Grant/Vertical Records Ltd/Sanctuary Records Group Ltd. All rights reserved.