JAK PARIS Electric Revolution Nev Records NEV2006-01 (2006)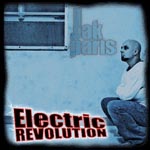 If it's true that you can't judge an album by its cover, it's certainly true for Jak Paris. He looks like he should be fronting Anthrax or Pantera, and there is a strong suspicion of something extremely metal in them there grooves.
Wrong. 'Electric Revolution'
is one of the finest set of melodic rock songs you're likely to hear in a debut album, and from an 'unknown' artist at that. Paris seems to be a wunderkind brimming with Californian confidence, tackling vocals, guitar, songwriting and co-production duties (with Bobby Ferrari) with ease.
It's a songs-based rather than a guitar-based album but with some precision playing from all, enough light and shade, and packed with memorable choruses. And if that weren't enough, Jak is confident enough to include a remake of Fleetwood Mac's 'The Chain' (with Scarlett Powers as Stevie) which is arguably better than the original.
This CD has a quality feel to it, helped by the high-end HD-CD format, with songs that a more established artist would pawn their vintage guitar for.
Lovers of songs-based rock, as peddled by Crowded House or The Rembrandts, and chorus-driven rock á la Bon Jovi, should investigate. There are even shades of Oasis, Queen, Beatles and Wings.
N.B.D. (Not Back Down) is also available as a single, and is a superb slice of guitar-driven rock given colour by top and tail keyboards. (Check out the video on our Primer).
'Lead The Way' could equally be a single and from the opening guitar chords you'll be hooked. The lyrics espouse a philosophy that might be more appropriate in the Californian sunshine, but we could all do with some of that.
Metal guitars (well, Jak started off playing Metallica riffs in the eighties) and whispered vocal effects feature on 'Happy Now?'
'Seasons Change' slows the pace and is effortless melodic rock while 'Alone' nicks Richie Sambora's vocoder which warbles away in the background.
'Losing Faith' is yet another standout with a fine sense of urgency captured by a repeated keyboard riff and funky rhythm that shows off Paris at his best. And there's even a bit of wah-wah bristling to get through. More, please.
Let's hope Jak Paris' rigorous self-promotion will attract the majors, alternatively he may follow a lucrative life peddling superior songs to the stars. Either way, things can only get better.
*****
Review by David Randall

Lead The Way
© 2006 Nev Records Inc/Jak Paris Music. All rights reserved.