JAGUAR 'Run Ragged' (Angel Air SJPCD150 2003)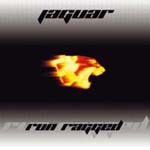 Another band from the days of the New Wave of British Heavy Metal is back! Jaguar reformed a few years ago and this new album also marks the 150th release on UK based label Angel Air. Only guitarist Garry Pepperd remains from the band's original line-up being joined by drummer Nathan Cox (ex-Andy Scott's Sweet), bassist Darren Furze and vocalist Jamie Manton.
From the off you just know this is going to be a good album as Run Ragged bounds out of your speakers. It is very heavy speed metal and fans of classic Metallica (drummer Lars Ulrich is a fan) and early Maiden are in for a treat. No chance to catch your breath at all as No Change Given and Feng Shuicontinue the aural bombardment. Vocalist Jamie Menton suits the music well and reaches Bruce Dickinson style high pitched screams at times. For some severe guitar shredding try Living Hell, which also cranks up the bass nicely. Not a ballad in sight!
Good to see an older band still cranking out good metal tunes and in the current climate could make a comeback. A definite must for speed metal fans!
****
Review by Jason Ritchie


£12.99
This Is Your Life
© 2003 Angel Air Records. All rights reserved.
***** Out of this world | **** Pretty damn fine |
*** OK, approach with caution unless you are a fan |
** Instant bargain bin fodder | * Ugly. Just ugly