JADIS 'Photoplay' Inside Out (2006)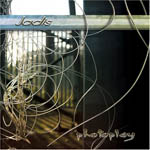 After the rather excellent albums released by fellow UK progressive rockers Arena, Pendragon, Credo and Kino last year Jadis have a lot to live up to!
Their last album, 'Fanatic' was a very classy affair and in some ways 'Photoplay' picks up where this album left off. The atmospheric arrangements are still in place most notably on 'Make Me Move', which also lets Gary Chandler rock out on his guitar!
'I Hear Your Voice' is a classic Jadis number – melodic chorus, soaring guitar and very catchy. 'Asleep In My Hands' shows Chandler's melodic voice of to good effect and again the guitar is prominent in the mix. There are some neat keyboard passages on the album although sadly this release marks the swansong of keyboards player Martin Orford.
The album closes with the gentle instrumental 'Photoplay', a fitting end to a very enjoyable album.
Jadis have produced another good album that will doubtless delight their fans and they have certainly added a harder edge too many of the songs with the guitar taking a more leading role. Not quite the classic 'Fanatic' was for me but another great album nonetheless.
****
Review by Jason Ritchie
Asleep In My Hands
© 2006 Inside Out. All rights reserved.