JACE Stolen Season Jace Music 2005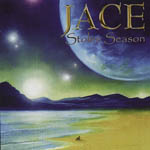 Jace or Jason Pawlak is a singer/musician based in the US and I reviewed his early album, 'The Mirror' back in 2002. He's back with a new set of tunes and is joined by Dennis Pawlak and Dennis Trevor Pawlak on guitars. Again it is a mix of catchy melodic rockers and some neat ballads.
Pick of the bunch are the ultra catchy 'Table For Two' – some tasty guitars on this little beauty – 'Take Me Back' which would be a hit single given proper airplay and a bigger production budget and 'Lost'.
Those who enjoy catchy melodic rock tunes with a hint of Def Leppard and Loverboy would do well to pop along to Jace's website ASAP. Another quality singer/songwriter and why he's not signed to a label is a mystery.
***
Review by Jason Ritchie

Take Me Back
© 2005 Jace. All rights reserved.
***** Out of this world | **** Pretty damn fine |
*** OK, approach with caution unless you are a fan |
** Instant bargain bin fodder | * Ugly. Just ugly