IVORY KNIGHT Unconscience (2005)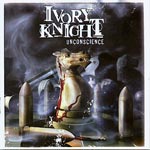 Not the most accessible metal release I have heard recently; this CD takes a few listens to catch hold. Vocals on this release at times exceed the range of the singer...but that eventually adds some charm to the album.
The first few tracks are not bad but not as good as some of the later stuff; things really kick off with the killer title track. This is classic metal delivered with excellent talent and dedication...Jeff Waters of Annihilator fame has done a cracking job at producing this CD.
The entire thing sounds very professional and not what you expect from band with no deal. To be honest this lot sound a hell of a lot better than quite a few signed bands I have listened to of late. Needless to say they have been making heavy use of the internet and touring. Despite coming from Canada they have a bit of Euro-power-metal feel to their music which is no bad thing. A good example of this is 'In Fog I Walk' which its keyboard-laden intro.
In the end while not as instant as some releases, a bit of time will lead you to like this release. A major tour of Europe would probably do them lots of good. A worthy release from a band with loads of potential.
****
Review by Marty Dodge
Up From The Ashes
© 2005 Ivory Knight. All rights reserved.
***** Out of this world | **** Pretty damn fine |
*** OK, approach with caution unless you are a fan |
** Instant bargain bin fodder | * Ugly. Just ugly