ISOTOPE & GARY BOYLE Live at the BBC (HUX048)(2004)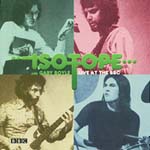 Isotope was a great jazz rock band, and Gary Boyle was and is a great guitar player. Hux Records have been called "the greatest plunderers of the BBC's vaults" and they continue to raid dusty corners of the archive, restoring hitherto unheard sessions and reviving the profile of now obscure musicians. And this CD does just that.
To his credit, Boyle has pursued a solid but quiet career since the halcyon days in the early seventies, but with Isotope he upped the ante. He'd previously backed pop artist Millie and Dusty Springfield in the sixties and then had a formative stint with jazz rock fusion outfit Brian Auger's Trinity. With cohorts Brain Miller(keys), Jeff Clynne (bass) and Nigel Morris(drums) he spun an often intense fusion flavour but the technical intensity was also tempered by some cool funk grooves and a rock edge. Boyle's approach at times recalls the flurries of John McLaughlin but Isotope were less cerebral, and funkier, a credit to keyboard player Miller who grounded them with a firm melodic structure whilst hammering out a robust electric piano.
These sessions include a Radio 1 In Concert from 1973, a Whistle Test session from 1974 (with a truly stonking 'Upward Curve') and a superb Gary Boyle solo session from the John Peel show in 1977 when he was promoting his album 'The Dancer' (with a cameo from Asia's Geoff Downes).
They immediately made me want to dig out old vinyl, sad as it may seem, and whilst the first two Isotope albums have been available on CD ('Isotope' and 'Illusion')I am not aware that Boyle's related solo work has been given that treatment ('The Dancer', 'Electric Glide') or indeed the third Isotope album, 'Deep End'.
Now teaching and gigging in the north of England (I caught him several years ago at a somewhat low-key jazz festival in Cheshire) maybe Boyle will now revisit some of this classic material, or even reform his band. This is a very worthwhile and accessible archive release - something you can't always say about jazz rock fusion - and is therefore a credit to the musicianship of both Boyle and his bandmates. One to play LOUD!