IRON MAIDEN Death On The Road
EMI 3664372-7 (2LP/2CD) (2005)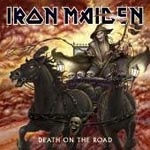 Following the recent Ozzfest fiasco, Iron Maiden release their sixth live set (more if you include import and box-set releases) and it shows well why they are such a popular headlining act.
Recorded in November 2003 (why did it take 2 years to release?) it features the recent top 5 hit "The Trooper" and, if the live shots are anything to go by, there's impressive stage sets all round. And this is no live compilation, it's all pretty much one night, one set.
This album also highlights how Iron Maiden have, unlike Motorhead, Sabbath et al, have mixed their set lists in recent years. With "The Trooper", "Wrathchild" and "Can I Play With Madness" back in the set, there's new oldies, the usual staple classics and plenty of recent material to please everyone. Opening with "Wildest Dreams" and including "Dance Of Death" (the title track of their last studio set), you are shown how good the recent material is and how tight and on-form the band are.
The German crowed seem to thoroughly enjoy the set, and rightly so, although many of the songs are quite long. This was never problem when HBYN and Mariner… were the only songs over 7 minutes in the set; now it's a regular occurrence. A couple of the earlier shorter numbers wouldn't go amiss. Is this a Harris plan to cut down Dickinson's inter-song banter?
The 10 minutes of "Paschendale" is great, faultless, honest, energetic, like much of the set. "Lord Of The Flies" and "Fear Of The Dark", however, aren't favourites.
"No More Lies" is good, and "Hallowed Be Thy Name" probably Maiden's best track, ever.
Finishing with "Iron Maiden", "Number Of The Beast" and "Run To The Hills" and you can't go wrong.
The whole band here are on form, the performance and sound quality tight and solid, proving that 3 guitars in straight metal can work when the planning and song writing are good enough.
Be nice if they reintroduced tracks from Powerslave or Somewhere In Time, but there can't be too many complaints. And for the vinyl junkies, the album comes as a double picture disc (thick vinyl, too) with a gatefold sleeve and innersleeves; you can't say they don't look after their fans.
****½
Review by Joe Geesin