There's life in eighties prog...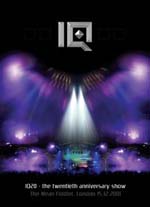 IQ present a lavishly packaged double DVD recorded at the band's 2001 20th anniversary show at the Mean Fiddler in London. The film quality is good throughout and the sound can't be faulted.
The setlist as you'd expect covers their entire career with highlights including 'Erosion', 'Capricorn' and 'Awake and Nervous'. IQ excel at melding keys and strong rhythm interwoven with guitar solos to produce strong melodies and not ten minute widdle fests that blight some prog rock bands.
They don't lose sight of the melody and whilst vocalist Peter Nicholls may not have the strongest set of vocals he can effortlessly suit the music. Extras? You get a whole DVD here! Support band The Lens (whom IQ morphed from) have their set on here - nice touch.
The encores many will know, including the only decent song the Osmonds ever did, the environmental tune 'Crazy Horses' and Wings' 'Jet' gets run through as well. One other encore (from a Dutch gig) is here, Abba's 'Mamma Mia'. For the hardened fans you can watch the drummer's camera and stage set-up.
The overall packaging would put big labels to shame with a gatefold inner sleeve containing a timeline of the band's history and all those DVD extras that fans will lap up. Quite why I stopped listening to bands like IQ in the early 90's is a mystery as they have continued to create wonderful music and have even excelled the songs on here with this year's 'Dark Matter' album.
Throw away preconceptions of prog rock and just listen to the sheer musicianship on display and songs that take you on a journey. Along with Arena and Jadis they prove there is life in these 80's prog rock bands.
****
Review by Jason Ritchie