IONA The Circling Hour Open Sky OPENVP11CD (2006)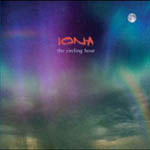 After a self-enforced lay-off for several years - not least due to Joanne Hogg's throat operation - Iona are back, and more infectious than ever.
They've been peddling their brand of Celtic prog/ambient rock since the late-eighties and since that time they've gathered a loyal following.
'The Circling Hour' sees the band playing with a new verve, retaining their signature sound but more upbeat than the somewhat introspective 'Open Sky'.
Joanne's vocals are again a standout, and it's a relief that she is back to full health. I'm pleased to report there are a couple of shorter tracks here that should serve as an excellent taster, before indulging in the more expansive stuff on offer.
'No Fear In Love' is a classic piece of drama with Hogg's attractive vocals, and topped off by Dave Bainbridge's fluid guitar figures whilst 'Strength' is a steadily building tune that breaks into (for Bainbridge) a heavier riff.
As ever, Bainbridge's guitar spurs things along with a style reminiscent of both Hackett-period Genesis and Marillion's Steve Rothery.
And if you're a fan of the aforementioned bands, you will almost certainly take a shine to tracks like the epic eleven-minute 'Wind Off The Lake' and the 'Wind,Water & Fire' suite. The band are superb multi-instrumentalists, with Frank van Essen doubling on drums and violins, the latter well showcased on 'Wind Water & Fire'.
If 'Open Sky' was mellow, this new album sees the pipes and whistles more prominent and the interplay (notably Bainbridge and Troy Donockley's Uilleann pipes) - if at times similar to Capercaillie - is indisputably infectious.
In essence, Iona haven't become complacent. This is an uplifting, self-assured album that ranks with the best of their output. Fans will love it but others who seek something quite special should seek this one out, quickly.
****½
Review by David Randall

Strength
© 2006 Iona/Voiceprint. All rights reserved.