IONA Reissues Voiceprint (2005)

Three timely reissues of an enduring Celtic Christian rock band. Unfortunately their recent progress has been stilled by singer Joanne Hogg's throat operation, but thankfully she's now on the way to a full recovery.

Iona always took a slightly different tack to other Celtic crossover bands, Capercaillie for example trawled the native back catalogue whilst stirring up a frenzy with funked up jigs and reels. Iona, on the other hand, specialise in a broad musical canvas that reflects a Celtic tradition that is inspirational rather than indigenous.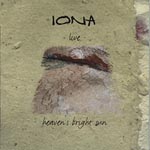 It is Joanne's clear vocals that are a high point of all these CDs. Heaven's Bright Sun (Open Sky OPENVP7CD) a 2-CD live set from 1997 brings together highlights from their first four albums. 'Treasure' from 'Beyond The Shores' and 'Flight Of The Wild Goose' first featured on their 1990 debut are characterised by the immaculate interplay between pipe, sax and guitar. In fact, Mike Haughton's sax lends a jazzy feel missing from the subsequent albums. ****
If you like lusty pipes - and we're not just talking about Joanne's vocals here, but Troy Donockley's wind instruments, and sweeping Floyd-esque guitar from mainman Dave Bainbridge - then Iona could be your bag.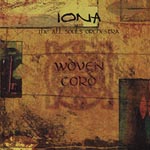 1999's Woven Cord (Open Sky OPENVP6CD) was recorded with The All Souls Orchestra to celebrate the band's 10th anniversary and gave the band their first opportunity to play with a full orchestra and a new twist to keynote tracks from their previous albums. Thankfully, there is only one duplicated track when compared to the 1997 live album and there's some fabulous blowing.
The 13-minute 'Man' originally on 'Book of Kells' thunders along with a funky rhythm, the band returning to the main theme embellished by Bainbridge's guitar and Donockley's pipes. ***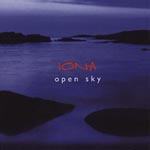 The cover of 2000's Open Sky (Open Sky OPENVP8CD) is all dark and broody and is inspired by the early Christianity of the Western Isles, a fascinating landscape of remoteness, intrigue and mystical reflection. And this pretty well sums up the music really, ambient soundscapes punctuated with the odd injection of classic Celtic crossover, as in 'Light Reflected'. ****
Iona's music is splendidly executed and evocative. It is probably best enjoyed whilst on a slow boat, imbibing a remote sunset somewhere off the western coast of Scotland, searching for the elusive Isle of Hinba.
Review by David Randall

Today
© 2005 Iona/Voiceprint. All rights reserved.