Essential live footage from funky Aussies...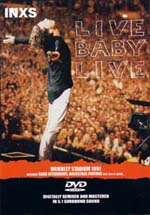 I was never a big INXS fan, although like a lot of people The Greatest Hits is dusted down every blue moon or so. So I came to this 1991 Wembley Stadium appearance with an open mind.
At the time INXS were riding the crest of their commercial success that started with the Listen Like Thieves (1985), Kick (1987) and X (1990) albums. Live Baby Live catches them at the moment before that wave broke and they crashed back into the surf.
The DVD opens with a thunderous drumbeat, the cameras panning the expectant crowd. The band file on from side stage and kick in. Wow. Then Michael Hutchence bounces on and from that point in, there's only one star of the show. It's clearly Michael Hutchence's 'trip' - he commands the stage like a modern day Jagger, his delivery not dissimilar in style - a stage natural.
The band are rock solid throughout although at times you get the feeling they would have been just as happy playing in a little bar in Oz. But not Hutchence - he is the vocal and focal point - and he revels in it.
The set list includes all the hits - What You Need, Need You Tonight, New Sensation, Never Tear Us Apart, Mystify, Suicide Blonde, Disappear and Devil Inside amongst the 21 track set list. The highlight for me? A particularly funky Who Pays The Price featuring a wonderfully loose groove and some searing blues harmonica from Andrew Farriss. Worth the entrance price alone! My only criticism is that the set list tends to be a bit one paced in places. But if you ever went to see INXS or own any of their albums, then this is a must have.
On the technical front, the picture quality is excellent - having been filmed on 16 35mm cameras and the sound quality is awesome - wind the volume up, dim the lights, ask a few sweaty friends to bring some lagers round, and you're rocking along with the rest of the 72,000 crowd. There's plenty of extras as well - 'never before seen' band interviews, backstage footage and more. The bonus track 'Lately' is a beautiful visual and sonic homage to Hutchence.
You may have the same titled double album somewhere in your collection - if you do, buy this DVD. And even if you don't, it's still a fitting tribute to one of the better vocalists and showmen of his generation. Rest in peace Michael Hutchence.
****
Review by Pete Whalley
© 2003 All rights reserved.