iLiKETRAiNS Progress Reform Fierce Panda (2006)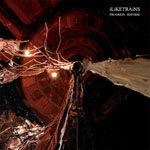 In the 1970's progressive rock was the thinking man's musical genre of choice. Time has proved it to be an enduring art form, but one - until now - that has failed to transcend to subsequent decades.
But Leeds based 5 piece iLiKETRAiNS look set to do the impossible and spearhead a new generation of cerebral rock with fiercely intelligent songs inspired by historical events and figures such as The Beeching Report - a rail worker's take on the break up of National Rail, the current single Terra Nova - a narrative of Captain Cook's doomed 1912 expedition to the South Pole, and A Rook House For Bobby chronicling the story of chess master Bobby Fischer.
Progress Reform is a 7 track mini album that charts the group's progress to date from early demo tracks through to the latest single. Only their first single Before The Curtains Close is missing. It could equally well have been titled Progressive Reform or Progress To Date.
Musically, iLiKETRAiNS fall somewhere between Roger Waters and Coldplay, but their lyrical content and gloomy delivery make them gleam like a beacon in the current new wave of Britpop.
Progress Reform opens with Terra Nova - an unlikely choice for a single - it starts with a typically doom laden delivery over gently echoing guitars and a ponderous bass line before building into a sonic guitar based overdrive. It's powerful stuff.
Military Parade follows the same formula, reaching a crescendo of almost ear splitting proportion. A more gentle version entitled Fram (it's about Hjalmar Johansen who was ousted from the Norwegian team that beat Scott to the Antarctic), featured on the b-side of Terra Nova.
Citizen paints a sonic landscape of epic proportion, while The Accident and Stainless Steel provide a change of pace. The former, a tale of loss where a lover / partner has accidentally taken poison intended for the storyteller, while Stainless Steel is an 8 minute epic - a chilling tale of a wife's revenge for her husband's infidelity - which builds to a magnificently explosive finale.
The Beeching Report rounds off the mini album in style with an inspired use of a male voice choir.
On first listen you could be forgiven for thinking 'what?'. But persevere - as was the case with all the best prog rock it needs an initial investment. And repeated listens to the music of iLiKETRAiNS reveals both beauty and grace. This is music for the mind and progressive rock for a new generation.
*****
Review by Pete Whalley
***** Out of this world | **** Pretty damn fine |
*** OK, approach with caution unless you are a fan |
** Instant bargain bin fodder | * Ugly. Just ugly
get ready to rock is a division of hotdigitsnewmedia group
Why should I buy this CD?
The next big thing for the man who likes his rock to carry a mensa IQ requirement.
Burn baby burn
Terra Nova, A Rook House For Bobby, Stainless Steel,The Beeching Report