iLiKETRAiNS 'A Rook House For Bobby' CD single, Kids (2005)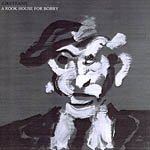 A Rook House For Bobby is the second single from Leeds based iLiKETRAiNS. And d'you know what? It's compelling stuff. It's progressive rock, Jim, but not as we know it.
While the A side chronicles the story of chessmaster Bobby Fischer, the B side – The Beeching Song is a protest song about the restructuring of National Rail recommended by the aforementioned report in 1962.
Both are dark brooding numbers that build compellingly around atmospheric vocal and guitar work. The Beeching Song inventively using a male voice choir.
iLiKETRAiNS take the best of Roger Waters and Coldplay soundscapes and make them their own. With songs of social comment, a stage show featuring projections and the band wearing National Rail uniforms, could this be the rebirth of 'prog'? I hope so, because on the strength of this, iLiKETRAiNS glimmer like a beacon in sea of grey.
*****
Review by Pete Whalley