ICE 'Ice Man' Angel Air SJPCD176 (2005)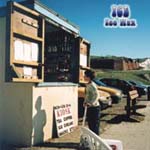 One of the great achievements of Angel Air Records,as they celebrate their eighth anniversary, is their knack of breathing life into forgotten nuggets of obscure pop history.
The knack also, it seems, is to maximise the cross-selling, so for example Freedom has links to Bobby Harrison via Snafu, Affinity has links to Mo Foster, Sailor, and...Ice.
This latest offering is yet another twist to the story and another shard of the jigsaw. Taken from original vinyl, the six basic tracks are supplemented by rare live shows, including a BBC gig.
Lynton Naiff (keyboards) and Grant Serpell (drums) met at the University of Sussex and whilst there are hints of the later jazz-rock of Affinity, the core tracks are more pure sixties psychedelic pop. It's fairly evocative, if hardly mind-blowing fare, but it does complete the jigsaw. One suspects that there were a few Association and Fifth Dimension albums lying round the Dansette at Uni.
So comprehensive is this musical nugget-mining, one wonders where to next, early-fifties recordings of Naiff in pram with a plastic xylophone? Bring it on!
***
Review by David Randall


£12.99
Ice Man
© 2005 Angel Air Records. All rights reserved.