IAN GILLAN BAND 'The Rockfield Mixes - Plus'
(Angel Air SJPCD166) (2004)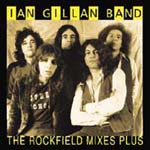 Ian Gillan made a brave decision to move away from hard rock in this manner when he left Deep Purple. His first two solo albums were a much more jazz oriented. And while the debut 'Child In Time' was experimental, the second album 'Clear Air Turbulence' was far more dynamic.
What we have here is the original mix of that second album (originally released by Angel Air a couple of years back), mixed at said studios because of the state of the art equipment. This was the first album to feature pianist Colin Towns, who had a jazz background, as did drummer Mark Nauseef. Guitarist Ray Fenwick and bassist John Gustafson were both skilled session musicians who'd built up a reputation away from the mainstream.
Much, then, lends itself towards jazz fusion, often keyboard led. But the elements of hard rock and Gillan's trademark vocals make the album essential.
The 'Plus' in the title adds several bonus cuts from the previous release, including a live 'Smoke On The Water', a Ray Fenwick invertiew, a couple of backing tracks, and extensive sleevenotes.
The move to Island at the time didn't do much for the band, so enjoy this all the more.
****
Review by Joe Geesin
Album review (Rarities (1975-1977)


£12.99

Over The Hill
© 2004 Angel Air Records. All rights reserved.