HURRICANE PARTY 'Get This' Sanctuary 06076-84701-2 (2004)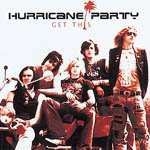 The debut EP by a band with some well known backers like John Kalodner and of course they are signed to the world's biggest independent label in Sanctuary and the EP is mixed by Kevin Shirley (Journey et al).
I've seen this band twice in the past year and they do have the stage presence (plus masses of hair!) of a band wanting to succeed. They aren't Darkness clones in fact they reminded me more of Little Angels and Skin! Vocalist Richie Hevanz does have vocal similarities with Toby Jepson, especially the opener 'Roadstar'. A rollicking little number that is catchy beyond belief.
'Last Survivor' enters Black Crowes territory as does the Stonesy good time vibe on 'Crown of Thorns', the weakest track on the EP. Get past the cod lyrics ('A big rock show, Hands up let's go') of 'Big Rock Show' and you've got a groovy little number, with it's big riff and call/response chorus.
Yes it's all been done before but, hey, they are good and pen a good tune or two. Hurricane Party will either herald a new wave of good time hard rock bands or disappear faster than Little Angels! Black Crowes fans form a queue here!
Band website
****
Review by Jason Ritchie

Killer
© 2004 Hurricane Party/Sanctuary Records Group. All rights reserved.