THE HUMAN VALUE Big Deal Records BDR8980 (2006)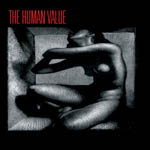 One of LA's hottest new bands, The Human Value have their roots in the dark synths of the 80's, combined with smouldering vocals and the attitude of the great bands of the era - The Banshees, Talking Heads, Blondie and The Ramones.
But The Human Value are no retro band. They purvey a brand of pop/rock of the type delivered by PJ Harvey - dark, heavy and brooding, but at the same time sexual and sensual. And they're spearheading a new wave of exciting and spontaneous fuzzed out guitars, grinding rhythms and seductive vocals combined with underlying pop sensibilities.
The Human Value are Turu (vocals and keys), Hiram (guitar and vocals) and Lynnae Hitchcock (drums) who joined the band post the recording of the album. Together they sport eclectic backgrounds including Russian, Greek, Mexican, Irish and Cuban. Put that together on an album recorded in Nashville and completed in LA, and you get something truly original.
The Human Value's sound is dark, dirty and seedy with Turu's vocals falling somewhere between Patti Smith and Chrissie Hynde. In other words, this is a record with attitude. The opening track (and first single) Give Me sets the scene with a huge brooding beat of distortion like a swarm of wasps around your head, with haunting vocals that could have their roots in progressive rock (early Curved Air?) or punk. It's a compelling number, as is You Want Him, which is sultry, and possibly a better choice of chart material.
Kill Pangs is a stunning number with breathy vocals and inventive use of violin, and another highlight is the almost delicate duet on Parts Per Million. But for the most part this album is a breath of fresh air, in a stale music scene. Commercial success? Who knows, but cult status beckons with certainty.
****
Review by Pete Whalley
Kill Pangs
© 2006 Big Deal Records. All rights reserved.