HUE AND CRY 'The River Sessions Volume 1 1987 '
River Records RIVERCD049 (2005)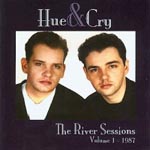 Hue And Cry are another one of those eighties bands, like Johnny Hates Jazz, that you either loved or hated at the time whilst not denying they produced catchy tunes.
Twenty years later does it sound any better? Leaving aside the off and on-stage rivalry of Kane brothers Greg and Pat which made gigs potentially explosive or cancelled, the band penned commercial tunes characterised by Pat's jazzy vocals and a pop to jazz funk feel.
Considering that fiery relationship, it is therefore unique to have two radio gigs from 1987 recorded in Glasgow and presented on this double-CD.
This album shows the band were able to hack it live, not an easy job in the over-stylised synthetic eighties, and includes their 'hits' including 'Just One Word', 'Labour Of Love', 'Strength To Strength' and 'I Refuse'.
There's inevitably some duplication on the second CD as the gig is only eight months after the first, but the band sound in better form and there's even a brief version of Squeeze's 'Tempted'.
The late eighties saw a renaissance in Scottish music and - along with bands like Love And Money and Texas - Hue And Cry upped the ante. This historic package shows that - brotherly rivalry and politics aside - Pat and Greg weren't that bad after all.
***
Review by David Randall

Strength to Strength
© 2005 River Records. All rights reserved.