Naked Jonesy bares all...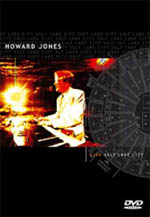 OK, hands up who wants to see Howard Jones naked? No, not down to his Calvin Klein's, an acoustic concert. Now you may be thinking – there's nothing new on offer here. After all, his 20th Anniversary Concert dvd recorded at the Shepherd's Bush Empire in 2003, included an acoustic set, but this dvd is different.
No electronics at all. Just Howard with a Yamaha Clavinova and accompanied by Carole Steele on backing vocals and percussion. Howard was a mega star in his day on both sides of the pond and still retains a hugely loyal following. This dvd is therefore an opportunity to see just how his songs stand up to close scrutiny.
Recorded in front of 4,500 fans at a gig in Salt Lake City as part of his 1996 World Tour the concert runs to 112 minutes and some 24 songs, including top 20 hits New Song, Hide And Seek, Like To Get To Know You Well, Things Can Only Get Better, Life In One day and No One Is To Blame, to name but a few.
From atmospheric opening (a young woman in a Hammer Horror nightie lighting candles on gothic candlesticks) you know you're in for a special evening. It's an intimate affair in front of an ecstatic audience and the stripped back approach breathes new life into the material making it seem far more contemporary than when dressed in it's original synth clothing. This is a far more genuinely 'acoustic' approach to that employed on the 20th Anniversary Tour and the set benefits from it.
And as a bonus feature you get a 'behind the scenes' interview with the man himself.
An absolute must for any self respecting Howard Jones fan.
****
Review by Pete Whalley