HOUSE OF LORDS World Upside Down
Frontiers (2006)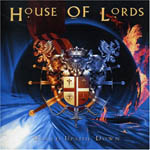 House of Lords return with the follow-up to the rather disappointing 'The Power and the Myth', a fact which vocalist James Christian wanted to rectify with this release and hence got back with original keyboards wizard Greg Giuffria.
The rest of the line-up is completed by Jeff Kent (bass/keys/vocals), Jimi Bell (guitar) and BJ Zampa (drums).
Why did HOL break-up back in the mid-90's?
The band broke in the 90's because of the arrival of Grunge Music on the scene. Just like that. The melodic sound was no longer popular. There was no point in doing a record if we would have trouble getting it out there. So after 10 years there seems to be more interest now. I do keep in contact with the other members. We will always be friends.
The band have high standards to reach for me as their debut and follow-up 'Sahara' are classic albums chock full of melodic hard rock with that pomp edge provided by Greg Giuffria's keyboards.
This album hits those heights and then some! After a suitably grandiose intro full of swirling keys and guitar 'These Are The Times' rocks in on a big riff and the distinct vocals of James Christian. There are plenty of good hard rock tunes on here like 'SOS' and the superb 'My Generation', a homage to the band's musical heroes. This track features wonderful arrangements and sublime harmonies - it doesn't get much better than this.
Then of course it wouldn't be a House of Lords album with some ballads including the title track and 'Field of Shattered Dreams' just blows other bands' ballads out of the water! After a neat acoustic intro the song lifts up in all the right places and again the harmonies hit all the right spots. A special mention to guitarist Jimi Bell, as he fits the HOL sound to a tee - more than a match for Lanny Cordola.
Essential for any fans of the band as they recapture their classic sound but with modern production (everything in its right place and clearly heard). Easily going to be an 'Album of the Year' for many.
*****
Review by Jason Ritchie
***** Out of this world | **** Pretty damn fine |
*** OK, approach with caution unless you are a fan |
** Instant bargain bin fodder | * Ugly. Just ugly
Why should I buy this CD?
For fans of House of Lords, classic hard rock
Burn baby burn
Just buy the album as it is all good!