HK119 'Pick Me Up' One Little Indian Records (2005)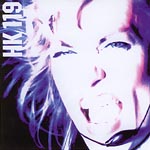 HK119 is the artistic persona of one Heidi Kilpelainen, whose admirers include Bjork and Alison Goldfrapp. Her single Pick Me Up - released 12 September - is a violent slab of androgynous techno pop with overtones of Eurythmics and Kraftwerk laced with the acidity of punk and delivered with the deftness of Black Sabbath.
The single is available in two formats - CD and DVD, the latter revealing that HK is indeed a shapely blonde blued eyed Fin (and we're not talking Sammi Hypia) who looks like sex on legs one minute and the next like she'd like your nuts in a vice (think Bridgette Neilsen in a Slipnot mask – we're talking seriously scary).
You get some idea from the sleeve notes that this is no conventional artist – 'to be played at volume 11 through your mobile phone, twice, wearing tinfoil', but Pick Me Up isn't half baked – it's undoubtedly catchy and could, with a little luck and exposure become a late summer rave classic. As it says on the sleeve, 'Let's Radiate Baby'.
Both versions come with remixes, the dvd having the bonus of videos and stills. But beware – this isn't for the faint hearted.
***
Review by Pete Whalley