HELP YOURSELF 5 (HUX054)(2004)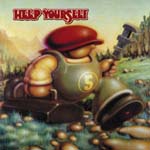 Help Yourself were one of those bands that have achieved semi-cult status amongst the informed. They were originally signed to United Artists records in the early seventies and released four albums. This 'new' release re-discovers their 'lost' fifth album.
In 1973 the band holed up in the Oxford countryside where according to band mainman Malcolm Morley 'I was scraping the barrel for new material'. By August of that year the band had lost heart, abandoned the album, and called it a day.
Now, newly resurrected, the eight original tracks are joined by some recent recordings to finish things off. Original members Morley, Richard Treece and Ken Whaley are joined by Kevin Spacey (presumably NOT the film star).
The music is somewhat of its time, redolent of an early seventies joss stick party but a tad more memorable. The band were more influenced by their American contemporaries like Buffalo Springfield but trainspotters will note the Man connection (themselves taking a leaf from the pages of several West Coast bands of this period).
Remarkably, thanks to deft mastering, the earlier tracks meld graciously with the new, so this has been a useful exercise to provide the missing link. Opener 'Light Your Way' and 'Grace' demonstrate Morley's talent for a tune whilst 'Romance In A Tin', a reworking of an earlier solo track (included on the Hux 2002 reissue 'Lost And Found'), and 'Willow' is also a standout. 'Alley Cat' has a swagger and a bridge section to make Neil Young nervous but the rock jam 'Monkey Wrench' which features Sean Tyla on guitar is all too short.
Morley is an excellent songwriter and this album sounds convincing, spanning a thirty year chasm with ease. Perhaps he should just bite the bullet and get the hell back in the studio for No.6.
****
Review by David Randall


£12.99
Romance In A Tin
© 2004 Malcolm Morley/Hux Records. All rights reserved.