HELLOWEEN Singles Box Set Volume 1 1985 - 1992 Sanctuary (2006)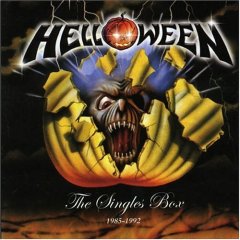 After The Scorpions (and some might mention Accept too) Helloween are Germany's best and best known metal export, influential on virtually the whole of the current European power metal scene.
This 7 disc set (all in card sleeves, held in a box with a well annotated booklet) covers all their singles in this early period, including their eponymous EP.
That aforementioned EP is welcome here, as it should be and on its own (ie not packaged amongst another album), five tracks plus a sixth bonus, a specially recorded Christmas song that was added to the original reissue picture disc.
Moving on, Kai Hanson moved to guitar and in came singer Michael Kiske.
While the earlier material is a little ropey, by the time the Walls Of Jerico LP appeared the band were becoming more polished. Certainly more coherent.
Most of the singles, taken from albums, contained at least 2 extra tracks, most either live or alternate versions so packaged here like this make for essential listening; the singles for the novices and all the extras for the collectors and fans.
Despite some dodgy record sleeves and the roughness of the earlier material, the singles from The Keeper albums are top rate and it all shows why the band built up so much following.
Good music, top package
****½
Review by Joe Geesin